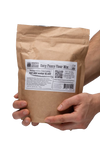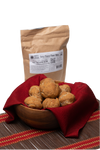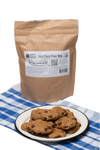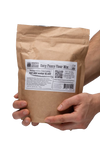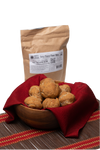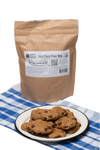 Easy Peasy Flour Mix
Regular price
Sale price
$12.99 USD
Unit price
per
With this awesome flour, you can easily bake:

Bread
Pizza crust
Dinner rolls
Wraps
Baguettes

Cinnamon rolls
Chocolate cake
Muffins
Cookies
Pies
Biscuits and more!
One bag is 25.75oz (730g)
And makes: 2 Large Loaves (9 in by 5 in, 18 slices per loaf),
4 Pizza Crusts (10-12 in), or 24 Dinner Rolls.
We give you the flour mix, the recipes, you just add water and oil (and a few other ingredients), mix it up and bake!
Our goal is to make delicious healthy gluten-free home baking so easy that anybody can do it and enjoy it!
Scroll below for our full ingredient list, which of course consists primarily of organic ancient whole grains full of flavor and nutrition! 
Visit our Easy Peasy Flour Mix resource page for complete list of Recipes, Video Recipes, Substitutions and FAQs.

If you're interested in baking bread, then this mix is our Classy Slice flavor. By adding just a few additional ingredients, you can also make all our other bread flavors: Hemp Hemp Hooray!, Buckwheat Molasses and Cravin' Raisin.
The cost of 1 Loaf baked from this flour mix, compared to the size of our already-baked Classy Slice, is $4.85.
We couldn't be more excited to share with you everything we learned from our 10+ years and thousands of hours spent developing gluten free bread recipes in our kitchen!
Shelf-life at Ambient temperature: 3 YEARS from production. No need to refrigerate.
Minimum order is $30
Bigger the Order --> Smaller the Shipping Cost:
Order Value
$30-$39
$40-$45
$46-$53
$54-$61
$62-$63
$64 or more
Total Shipping Charge
$9.00
$7.00
$5.00
$4.00
$2.00
Free
Ingredients

Flour Mix: (Whole Grain Millet*, Whole Grain Sorghum*, Whole Grain Buckwheat*, Whole Grain Quinoa*, Whole Grain Amaranth*), Tapioca Flour*, Prebiotic Fiber*, Psyllium Husk*, Acacia Fiber*, Xanthan Gum, Salt Yeast Packet Ingredients: Non-GMO Yeast *ORGANIC
Easy Peasy Flour Mix resource page